Please follow us on
How Big is the CBD Market?
The short answer here is that it is HUGE!   There are literally thousands of CBD manufacturing companies jumping into this billion dollar industry.  Unfortunately the industry is not overly regulated as yet, so it is definitely a "buyer beware" market.   I decided to write an article on this subject after I did some research (or tried to) on the two separate brands of CBD tablets that I currently use in my household.  After a full day of research, I am ashamed to say that I don't know much more now than I did before.  I did discover that the two brands that we use were not on the list of the hundreds reviewed by cbdoilreview.org.  Although I found this to be a bit disconcerting, I refused to give up.  I read through scores of reviews.  There is a massive list of companies out there that produce CBD products.  Everything from tablets, capsules, salves and gel caps to gummies, sprays, drops and oils.  There are marijuana plant  products and hemp seed/ plant products.  Some are legal, some are not.  Which ones are safe?  Are they effective?  All I wanted to know was "how to choose the right CBD oil"?   I did get some useful information that I will share with you here.  Most importantly I encourage everyone to do their research.  Buy from a reputable company and use these products responsibly.
A Little Science
Records show that the marijuana plant was used for pain relief dating back to 2900 BC.  Hemp has also been cultivated as a major crop for over 10,000 years.  It was an important source of food, fiber, paper, ropes, building supplies  and lamp fuel.  In the 1700's it was required, by law, that farmers plant hemp as a staple crop.  Then in 1937, the bright sparks in the government, passed The marijuana tax act which placed a heavy tax on all cannabis products (including hemp) and farmers stopped growing it.  In 1970 The Controlled Substances Act classified "hemp" as an illegal Schedule I drug.  A whopping 48 years later, in late December of 2018 an amendment to the Agricultural Improvement of 2018 (known as "the Farm Bill"), legalized hemp in the U.S.  This amendment removed the hemp plant, along with any of its seeds and derivatives from the Controlled Substances Act.
The difference between hemp and marijuana is a bit of a gray area.  The plants are from the same family.  They can even look exactly the same.  Both hemp and marijuana produce CBD – cannabidiol, the non-intoxicating compound found in cannabis.  It's the amount of THC (tetrahydrocannabinol) that defines the difference between the plants.  Marijuana can contain up to 30% THC whereas hemp can only contain 0.3% by dry weight.  Marijuana is still governed as a "controlled substance" and is selectively grown under strict conditions.  Hemp is  grown to maximize size and yield so the conditions are very different.  Both plants produce CBD and this is very useful.  Be aware of the terms "isolate" and "broad spectrum".  These determine the purity of the CBD content as opposed to the inclusion of other cannabinoids and terpenes.
The human body actually has an endocannabinoid system (ECS).  These are neurotransmitters that bind to cannabinoid receptors that are expressed throughout the central nervous system.
Basically this is our body's way of maintaining biological harmony when there are changes in the environment causing pain and inflammation.  By introducing CBD into this system we can lessen pain and inflammation as well as treating a multitude of other ailments.
The Medicinal Benefits of CBD
To clarify, at this stage, there is CBD from marijuana and there is CBD from hemp.  Different effects result from the different types.  There are certain medical conditions that require a level of THC and then are those that do not.  I, myself, use CBD for nerve damage in my neck and shoulders.  Basic pain relief.  Although I have used both types, I do not care for the intoxicating effects of the THC so I stick with hemp CBD.  Depending on the complaint, there is justification for both forms but be careful.  Not all States allow the marijuana derived CBD.
Years ago I had read about the soothing effects marijuana had on patients suffering from the side effects of cancer treatments.  Chemotherapy and radiation is tough.  More recently I have studied the progress that science is making in the treatment of epilepsy with medicinal marijuana.  These are just two of the treatments that would require CBD that contained THC.  With more research, the list of ailments that can be helped with CBD grows every year.  Epilepsy, Anxiety, Depression, Acne and other skin disorders such as Eczema and Psoriasis.  Alzheimer's disease, Parkinson's, Cardiovascular problems, Crohn's Disease, Arthritis and Neurological disorders.  It has even been documented that CBD has reduced the incidence of Diabetes in laboratory mice by 56%.  This is just another one of Nature's glorious gifts that was regulated into oblivion but is now making a come back.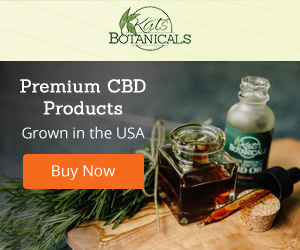 Caution
Even though I did not find a definitive answer to my question,  I did discover a few points that I would encourage you all to adhere to;
1. Know where your product is grown and manufactured.  ( Due to the lack of regulation, soil contaminants are important)
2. Has it gone through 3rd party testing? ( A reputable company is not afraid of this – they should encourage it)
3. How was the CBD extracted?  (CO2 extraction is best)
4. What additives have been included?  (carrier oils, preservatives, etc)
5. Buy from a respectable source.  (Your local gas station might not be your best source)
6. Understand "Isolate vs "Broad Spectrum".  (Do you want THC and other cannabinoids included?)
7. Understand the laws in your State.
Conclusion
Disclosure: This post may contain affiliate links. I receive a small commission at no cost to you when you make a purchase using my link.  
CBD is a wonderful product.  It has helped me, and my poor, arthritic, anxiety riddled dogs, exist pain free and happy for years now.  Just understand that the industry is new.  It is growing and changing with each year.  Be careful.  Do your research and understand what you are using.  Be careful of gimmicks and false advertising.  There are numerous sites to assist you and I highly suggest using them.  https://nationalhempassociation.org, https://cbdoilreview.org, https://www.fda.gov  just to name a few.
For those of you that don't want to get bogged down in the science, let me give you three companies that pass all of the tests.  These three are highly recommended and have a vast selection of CBD products.  Please take a look at what they offer by clicking on the links;  CBDMEDIC – An excellent source of topical pain relief products.  CBD Living – This company has everything you might need when it comes to CBD.  From pain relief topicals, capsules, gummies, bath bombs and even pet products!  Lastly there is Charlotte's Web – A range of diversified products that also includes a a variety for helping your four legged friends.  Charlotte's Web also offers a special Veteran's discount which is an added plus!
As an extra bonus I want to include Kats Botanicals and Aspen Green.  These are highly respected companies that adhere to all the requirements for trusted products.  I would encourage you to check out their sites and read their stories.  All of the above listed companies take the utmost care in assuring that you receive the highest quality.
Be careful folks, shop responsibly and be happy.
What is your favorite CBD product or a specific brand that you trust?  I would love to hear from you.  Please leave me a comment in the section below.  Thank you.
– Dolly –
Please share us with your friends on Thank you